Learn by doing with full courses on CYRIN.
Full courses include videos, background materials, quizzes, and multiple interactive CYRIN labs to enhance your learning experience. Courses are self-paced and taught by renowned experts in their fields. Pause and come back to the course at any time within your subscription period!
Several CYRIN courses offer a path toward CYRIN Certification. You may take any of the courses listed below without the certification as well.
Why Should I Be CYRIN Certified?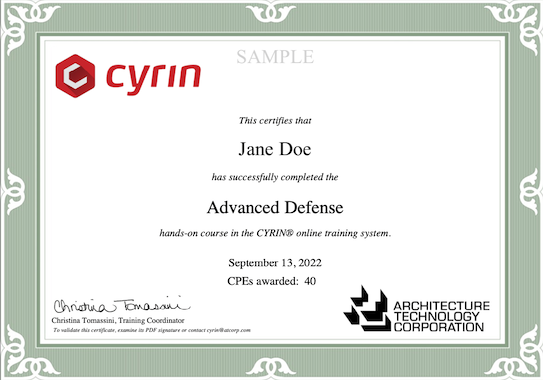 CYRIN courses help you expand your cybersecurity skills, refresh your skills, or begin a new career in cybersecurity. CYRIN certifications validate your skills acquired in these courses, enhance your credentials, and increase your marketability.
What Do I Get When I Am Certified?
A digital badge that can be exported to Badgr for use on LinkedIn and other sites.
A printable certificate of successful completion, including the number of CPEs earned.
A badge icon you can include in your e-mail signature, resume, and social media pages.
How Do I Earn a CYRIN Certification?
Complete all the prerequisites for the certification course.
Successfully complete the certification course. Successful completion requires a passing score in all labs and quizzes that are part of the course.
How Do I Maintain My Certification?
CYRIN certifications are valid for two years. Certifications may be renewed every two years by taking at least 12 CPEs of CYRIN learning content, not previously taken as part of any of your CYRIN certification courses. Certifications must be renewed before they expire.
Can I Take a Course Even If I Don't Care About Certification?
Yes, you may take any CYRIN course even if you do not wish to be certified. In this case, prerequisite courses are strongly encouraged but not required. You will get a printable certificate of successful completion, including CPEs earned, but you will not receive a digital badge or badge icon.
Interested in exercise packages, or access to individual labs, exercises, and attack scenarios? Visit our full catalog.